I WILL LEAVE THE WORD TO THE DESCENDANTS
(action "one country – one book 2014" by the works of Sain Muratbekov) –
a literature journey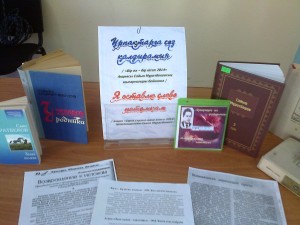 Aims and tasks:
​ Bringing up of new kazakhstany patriotism
​ Learning and popularization of writer Sain Muratbekov's life and creative work
​ Involvement of youth in reading of books on history of country, region
​ Discovery of talented youth and showing of its creative potential
A literature journey "I will leave a word to the descendants" by the works of kazakh writer Sain Muratbekov took place on 24 September in CL under the action "One country – one book".
The action "One country – one book" is held in Kazakhstan since 2007 thanks to the National Academic Library and Library Association. This idea is supported by the Ministry for Culture and Information. The action is held to make native literature more popular, save and increase historic, cultural and spiritual heritage, give the young generation right moral and patriotic upbringing.
Sain Muratbekov's short novels "Mugwort" and "On the top of Uchkara" have become the books for the common reading in 2014. This was decided during the meeting of action's organizing committee.
Sabit Mukanov, Abdizhamil Nurpeisov, Veniamin Larin, Sergej Baruzdin (classical author of Soviet literature) and Leonid Terakopyan spoke highly of Muratbekov's unique creative work. Vasilij Shukshin called Muratbekov my "blood kazakh brother". Sain Muratbekov was one of the best read writers among kazakhstany ones while alive. As the critics said it was possible to learn life wisdom from his works. Light and warmth of his love to the people heated hearts and souls.
He was a copyreader of the newspaper "Communism tany" (nowadays "Zhetisu"), a department manager, a chief editor of the most popular kazakh magazine "Zhuldyz", newspaper "Kazakh adebiety", a managing editor of film studio "Kazakhfilm", a consultant, a director of the department on fiction promotion of Kazakhstany writers' Union, a secretary of board of Kazakhstany writers' Union, a director of publishing house "Zhazushy", a chief editor of the newspaper "Halyk kongresi" and one of the leaders of the movement "Nevada – Semipalatinsk".
Sain Muratbekov belongs in his talent to the writers whose creative work cannot be divided from the personal life experience and is a story about adventures considerably. That's why short novels "Mugwort" and "On the top of Uchkara" are to a large extent autobiographical.
It is not so easy to say something new about the aul having taken the material studied by the recognized word-painters. But Muratbekov gave his own variant – soft lyrism and intonation honesty. The author is delighted by kindness, nobility and courage, width and generosity of soul, ability to understand and admit mistakes, to take difficult moral decisions. People, having such features, attract the writer and become his heroes.
Life endures Muratbekov's heroes with the joy and sadness, success and misfortune, happy meetings and sad disappointments. The country of his prose, which is surprising in its simplicity and truth, continues to life in books with its eternity. It would be nice to see that these books are wildly read, because they don't become old like "entire" topics. And Sain Muratbekov dedicated his generous pencraft to opening of these topics.
Sain Muratbekov's prose is translated into Russian, Uzbek, Tatar, Ukrainian, Belorussian, Georgian, Azerbaijani, Lithuanian, and Arabic. Muratbekov is a prize winner of the independent award "Tarlan", literature award after M.Auezov and State award of the Republic of Kazakhstan, awarded a medal "Mark of Honour" and "Kurmet".
Narration was accompanied with the slide show, where the listeners watched video and photo documents from the writer's artistic legacy. During the event CL workers presented a cognominal multimedia edition of the writer's life and creative work. The disk consists of 13 parts, such as filmography, photo gallery, and video and so on.
There were 44 people at this meeting.